In-N-Out and Shake Shack Burger Clones
Wednesday, February 21, 2018 - 03:05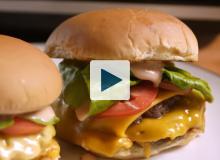 You might remember me telling you about my love of hamburgers in this article about someone eating a $295 hamburger. 
For that reason, it should be no surprise that one of my newest favorite shows on YouTube is the one from that article. 
Unsurprisingly the show is called "The Burger Show" and is part of the First We Feast channel. 
In this episode Andrew Rea from "Binging with Babish" teams up with the show's host, Alvin Cailan, to make clones of the iconic burgers of In-N-Out and Shake Shack. 
I must confess that being from the South I am a Whataburger fan, but since I am a burger lover I will never pass up a decent burger. 
Check out the video to learn how these burgers are constructed and maybe you'll be inspired to make something tasty, too. 
Leave a comment below to let me know what you thought about these tasty looking burgers!