Check Out Finnegan's Garage!
Wednesday, May 25, 2016 - 06:05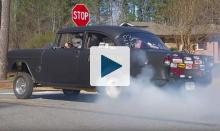 We introduced you to Mike Finnegan in a previous article about the Roadkill show. 
In case you missed it, Mike is one host of the Roadkill show and David Freiburger is the other. The show basically consists of these two guys taking a junk vehicle and making it run well enough for a road trip.
This is Mike Finnegan's personal channel where he intends to show us his personal machines, how-to's and tips and tricks for pimping your ride. 
He has been putting up episodes weekly and so far they have been pretty entertaining and informative. 
Check out Episode One below or the Finnegan's Garage playlist on YouTube for more episodes.
We would love to hear what you think in the comments below.