If You Like Cars, Then You'll Love Roadkill
Monday, May 23, 2016 - 03:29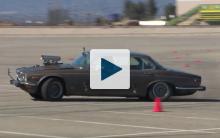 I have wanted to write about this show for quite some time, but never found a good excuse. 
Roadkill is a car show by Motor Trend for car guys, gals, dogs and any other lovers of automobiles. 
The hosts of the show are none other than Hot Rod Magazine Editors David Freiburger and Mike Finnegan. 
These two guys take cars that just about anyone can find and "fix" them up and usually end up taking them for a failure-filled road trip. 
The Roadkill guys just released their 50th episode on YouTube and as usual it does not disappoint. 
I have included the 50th episode below and the very 1st episode is below that one. I highly recommend you watch all of their episodes on YouTube, here is the playlist. 
A new episode comes out every month and if you want to get to watch the new episodes before everyone else, then for a fee you can subscribe to "Motor Trend On-Demand".
So without further ado, enjoy episode 50 and episode 1 below.