Cute Babies And Their Bulldog Friends
Wednesday, December 13, 2017 - 03:11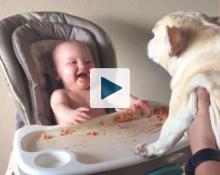 It's the middle of the week, so I thought you could use something cute to brighten your day. 
What could possibly be cuter than babies or puppies? Perhaps babies AND puppies?! 
This compilation of video clips featuring babies and their bulldog friends comes close to breaking the cuteness meter. 
So sit back and enjoy the video, then leave a comment to let me know which clip was your favorite!