Tiny Friends Play Together
Tuesday, December 1, 2015 - 22:15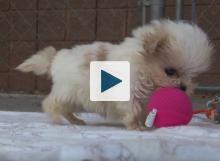 Who can resist these tiny, fluffy, cute little guys?
Ruggles, a tiny shih-tzu, was rescued from a puppy mill. Chompers the kitten was found abandoned under a porch when she was two days old.
Ruggles and Chompers quickly became pals while they were awaiting adoption.
Unfortunately they could not be adopted together due to Ruggles health issues, but they are both happy at their new homes with their loving families.