Snowboarding In The Streets Of New York City!
Monday, January 25, 2016 - 02:25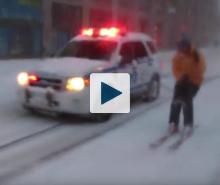 When you think of snowboarding, New York City is not usually the destination that comes to mind.
The arrival of the blizzard that brought New York City it's second-biggest snowstorm on record, also brought out the skis, snowboards and cameras.
These guys captured their adventures through the snow covered streets of NYC for all of us to enjoy. They even have a confrontation with the NYPD!
Were you affected by the blizzard? Did you turn it into an opportunity for fun? Let us know in the comments!