Recreating Pizza Hut Classics
Wednesday, April 4, 2018 - 00:00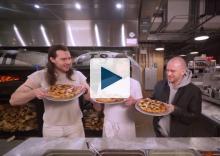 I have not made it any secret that I love pizza, so when I saw this video I have to admit that I was pretty excited. 
Watch as Sean Evans, Andrew W.K. and Anthony Falco (the "pizza czar") build two of Pizza Hut's iconic pizzas and then make a third pizza creation of their own. 
You may want to make sure you are not too hungry before watching because you'll be starving by the time it is over! 
Leave a comment below to let me know what your thoughts are on the pizzas in the video. I thought they all looked really good, but you can go ahead and place the cilantro directly in the trash for me.