Can He Eat This 6 Pound Breakfast Bagel In 30 Minutes?
Tuesday, April 3, 2018 - 02:33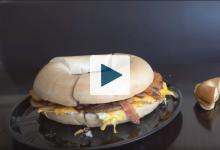 If you have not heard of the L.A. Beast, then you have been missing out, I think. 
The L.A. Beast is a mere mortal man that spends his days competitive eating and making YouTube videos about eating strange things. 
His YouTube channel is loaded with videos of him eating things like ghost chili peppers, ostrich eggs, cacti, 100 raw eggs and drinking a 20 year old Crystal Pepsi for starters. 
In this episode, the Beast is going to try to eat a 6.175 pound breakfast bagel loaded with all kinds of goodies in less than 30 minutes. 
He completed this challenge in 15 minutes back in 2011 when the bagel was only 4 pounds, so he has a pretty good chance. 
Check out the video below and leave a comment to let me know if you think you could do it!