Little Boy Laughs Himself Off The Playground
Friday, November 6, 2015 - 04:45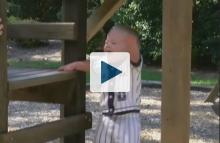 Everyone should know that dads can be dangerous! Even when they don't mean to be.
This little boy found out the hard way. He thought his dad was so funny that he laughed until he fell off the playground equipment backwards.
Luckily this dad was so funny that even an unexpected fall can't stop the laughter and the little boy seems just fine.