Super Cute Life Hack Demonstration
Friday, January 15, 2016 - 00:09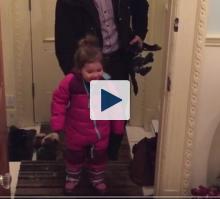 Every winter, parents in the colder parts of the world must deal with snow and slush being brought into the home by their kids' snow boots.
These snow boots are no fun to remove when they are all cold and wet. Not to mention the fact that they are all the way down on the floor.
Ain't nobody got time for that! 
That is why this "Life Hack" is sure to come in handy on those wet, dreary days.
Even if you don't live in a area that receives snow, you'll want to see this cute video!