Let Your Dogs Take You For A Walk
Wednesday, March 21, 2018 - 01:45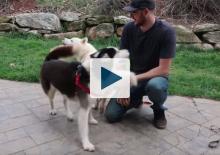 I think it all started with a BuzzFeed video, but apparently several YouTube video creators have continued this trend of letting your dog(s) walk you for a day. 
It is just as it sounds, you let your dog have control and lead the way in your daily walk to see what you might learn about them. 
You might be surprised where your dog ends up taking you, just like Taras Kul (Aka. The Crazy Russian Hacker) was. 
When Taras let his two huskies, Luke and Hugo, take control of the walk he did not realize that he was in for an exhausting day of surprises and fun. 
Check out the video below and leave a comment to let me know where your dogs have taken you!