Fail Friday: More Drone Fails
Friday, November 18, 2016 - 08:48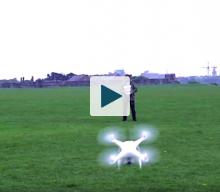 It is already another #FailFriday and this week we found another video compilation of drones failing. 
Love them or hate them drones appear to be staying around for the foreseeable future, so we might as well get used to them. 
Some of the people in this video are going to have a real problem adjusting to our drone filled future if their past behavior is any indication. 
No matter your opinion, you will either enjoy watching them crash or get a kick out of people that can't fly very well. 
If you like the video below, then check out our previous video of Drone Fails, and don't forget to leave us a comment!