Simon's Cat Gets A Taste Of The Pug Life
Wednesday, November 11, 2015 - 05:10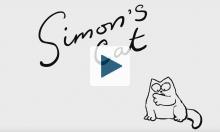 We've mentioned Simon's Cat before when it was number four on our list of The Five Most Viewed Cat Video's On YouTube.
In this episode we find Simon's Cat caught in a frustrating predicament, when unexpectedly help comes from a brand new character.
For more of Simon's Cat, visit their website and buy the latest book Simon's Cat Off to the Vet and Other Cat-astrophes!