Fail Friday: Halloween 2017 Fails
Friday, November 3, 2017 - 00:42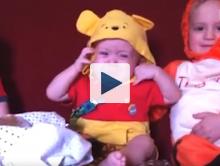 We have finally arrived at the first #FailFriday of November, so it seems appropriate to showcase this Halloween's fails. 
Kids are the best source of fails when it comes to Halloween, but there are a number of good adult fails too! 
This collection of Halloween fails by FailArmy has some of both and they are all pretty darn hilarious! 
Let me know which clips were your favorites in the comments section!