Dad Suprises Son For His Birthday
Tuesday, July 26, 2016 - 01:14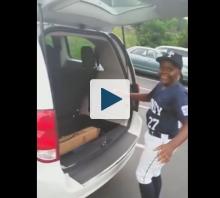 Have you ever wanted something really bad, but then when the time came for you to get it you got something else or nothing at all? 
I think most people have probably experienced this at least once and it can be a terrible feeling, especially if you feel forgotten. 
This little boy had been asking for this one particular gift for his birthday, but then when the big day came his dad acted like it was just another day. 
As you can imagine the little boy is not a "happy camper" and is not really in the mood to talk as he and his dad get into the car to go to his baseball game. 
That is when dad makes his move and asks the kid to get something from the back of the van. 
Watch the video below to see what happened and let us know what you think in the comments!