Fail Friday: Amusing Amusement Park Fails
Friday, August 3, 2018 - 02:32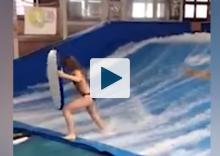 Another hot and sweaty summer #FailFriday is here and that means another compilation of people not having the best of days. 
This week's video features fails from amusement and water parks so expect a lot of people realizing they got more than they bargained for. 
Leave a comment below to let me know which clip was your favorite or to tell about your own amusement park experience. 
Enjoy your first weekend of August and try to stay cool out there!