Wednesday, February 24, 2016 - 23:19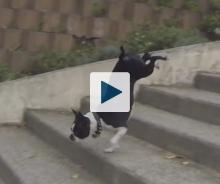 Dogs are pretty intelligent creatures, but for some reason some of them have the hardest time figuring out stairs. 
This compilation of videos show us how these "stair-challenged" pups have found unique ways of going up, down or around stairs.
Do you or does someone you know have a "stair-challenged" dog? How common is this phenomenon? Sound off in the comments and let us know!