Cutting Stuff With A Katana Sword In Slow Motion
Tuesday, November 14, 2017 - 23:32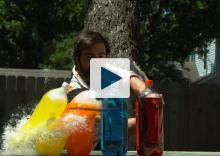 You might have seen some of the animated GIF's out there that show slow motion footage of katana swords cutting through things. 
The Slow Mo Guys, Gav and Dan, decided that they wanted to make their own slow motion footage of a katana sword cutting something too. 
So with no training and few safety precautions they set out to make their dream come true. 
With Gav filming at both 1000 frames per second (fps) and 2000 fps with a Phantom Flex 4K camera, Dan proceeds to make trash out of perfectly good plastic bottles...for science! 
Watch the video below and leave a comment to let me know what you thought!