Watch As These People Escape A Fire By Driving Through It!
Tuesday, September 15, 2015 - 04:16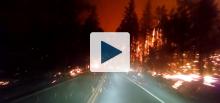 A fire in Lake County, California on September 12 killed one elderly woman and displaced at least 13,000 people. Nearly 95 square miles were scorched and hundreds of homes destroyed. 
This video was taken as a family was evacuating from Anderson Springs, towards Middletown, on Highway 179. Read about this families ordeal and help them with their recovery here.