You Suck At Loaded Baked Potatoes
Thursday, June 14, 2018 - 13:23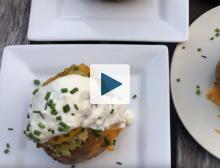 Do you love potatoes? Do you love loading those potatoes with tons of great stuff after baking the life out of them? Do you also love comedy? Then this is the show for you! 
This is not the first time I have told you guys about the "You Suck At Cooking" YouTube Channel, in fact this is the third time. The other two times were the episodes about making pumpkin pie and potato salad. 
Even if you don't like potatoes or cooking, I think the comedy is worth every second of time you put into it. 
This episode will show you how to take ordinary potatoes and turn them into mouth watering loaded baked potatoes in less than an hour. 
After you check out the show, leave me a comment below so that I can hear your thoughts about this tasty video!