You Suck At Cooking Potato Salad
Tuesday, June 27, 2017 - 23:56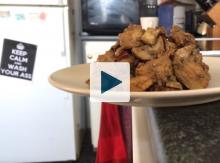 I like to cook and I used to think that I was fairly good at it, but according to this guy I suck at cooking and so do you. 
If you have not seen any videos from the You Suck At Cooking YouTube channel, then I am afraid you have been missing out. 
This very entertaining guy not only has excellent video skills, but he also does all of the music for his shows and he is pretty good! 
Oh yeah, he also cooks. 
But this is not like any cooking show you have seen before, so don't expect to walk away with a great new recipe. But you might, anything is possible! 
Check out the video below and let me know what you thought in the comments!