This Wiener Dog Wants To Use His 15 Minutes of Fame All At Once!
Tuesday, September 1, 2015 - 03:36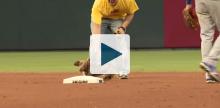 The El Paso Chihuahuas, a minor league baseball team in El Paso, TX, hosted the Wiener Schnitzel weenie dog race last Saturday night. Everything seemed to go as planned, until one little dashing dachshund managed to break free. He was having way too much fun running around the baseball diamond, dodging players and other people that were attempting to end his newly found freedom. I still think that he was just waiting for someone to throw him the ball.