Watch A Squirrel Pull This Little Girls Tooth!
Friday, June 24, 2016 - 05:20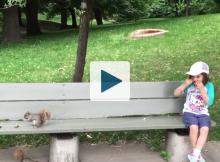 There are tons of videos on YouTube showing many different ways to pull a loose tooth. 
The majority of these videos use the methods that we all heard about or even tried either as a kid or with your own kids. 
Methods like tying a string to the tooth and a doorknob then shutting the door, or tying a string from the tooth to a bike or car or motorcycle...etc. 
Well this method is not like any one I have heard before so i had to post it! 
So without further adieu, I present what quite possibly could be the worlds first video of a tooth pulling by a squirrel.