Watch This To Learn About Real Chinese Food
Thursday, January 4, 2018 - 13:42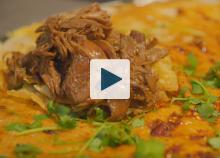 Whenever we Americans think of Chinese food, we normally picture American Chinese food that is often found in buffets. 
Of course China is a huge place full of different cultures and traditions and the food there is very different from region to region. 
In this video Sean Evans gets schooled on regional Chinese cuisine by international pop star, Kris Wu. 
Watch as they discuss and eat dishes prepared by Mr. Bing, a Beijing-style restaurant in New York City. 
Leave a comment below to let me know what you thought about the video, or about the foods that you like!