Watch This Guy Convert A Van Into An Awesome Camper
Tuesday, October 18, 2016 - 02:15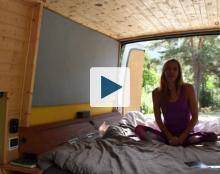 Have you ever thought that you would like a nice camper to travel around in, but thought that the ones being sold were too expensive or too big for what you needed? 
You can do just like Nate did and build your own camper using an old van, some wood, a little skill and lots of various accessories and odds and ends. 
Nate Murphy built this sweet camper van in 17 days for around $4000 (not including the cost of the van) using knowledge he got from various websites on the internet, lots of elbow grease and just a little help from his friends. 
You can build something similar if you put your mind to it and Nate can even help because he has been kind enough to write a blog about this vans build where he has an eBook available to buy for even more how-to info. 
Check out the video below to learn all about this creative conversion and if you want to learn more be sure to check out his blog. 
Let us know what you think about the video and we would love to hear your idea's for a creative camper van in the comments.