Watch 25 Airbags Explode With A Rainbow Of Paint In Slow Motion
Monday, February 13, 2017 - 03:32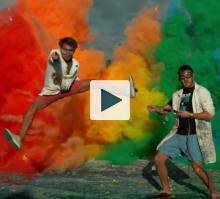 Last week I shared an older video with you guys where The Slow Mo Guys exploded an automobile airbag in slow motion. You can watch it here. 
This week Gav and Dan have a new video where they take 25 automobile airbags, cover them in powder paint and then explode them simultaneously. 
Well, as is usually the case, things did not go as planned, but in the end it all worked out and the final result was pretty awesome. 
This was all filmed in glorious 4K with a Phantom Flex 4K camera, so if you have a 4K television, then be sure to watch this video on it for the best results. 
When you are done watching the video don't forget to let us know what you thought in the comments section below!