The Top 100 Viral Videos Of 2016
Monday, December 26, 2016 - 06:15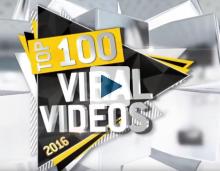 Now that the end of 2016 is within reach, it is time for all of the "Top (insert number and topic here)" lists. 
Just like it has the last couple of years, JukinVideo has created a Top 100 list of viral videos for your viewing pleasure and entertainment. 
It is 45 minutes of the wildest, dumbest, craziest, most touching videos that went viral in the last year. 
Make sure you set aside enough time to watch it all the way through to the number one video of the year. 
We want to hear about which clip(s) were your favorite and which one(s) you couldn't watch in the comments section! 
In fact, we want to hear any comment you have about the video or about 2016 in general, so don't be shy!