These Plants Could Be History's Most Powerful
Monday, February 12, 2018 - 04:39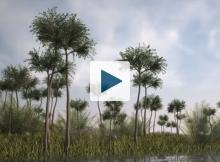 When thinking about plants, the word "powerful" is probably not one of the first words to come to your mind. 
However these ancient plants are are indeed quite powerful and may very well be the most powerful plants ever! 
The plant is named Lepidodendrales, but you can use its much easier to pronounce nickname, the "scale tree". 
This mighty tree is responsible for the coal that is used to heat homes and make electricity all around the world. 
Check out this exciting video to learn all about how this ancient plant became one of the most used natural resources in the world. 
Leave a comment below to let me know what you thought about this video!