This Solar Grill Is Put To The Test
Thursday, April 12, 2018 - 00:26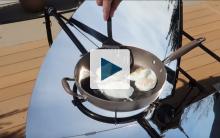 With the growing interest in environmentally friendly products we are seeing all kinds of interesting new things on the market. 
Some of these things are not really new ideas, but they are ideas that people ignored because they were not attractive at the time. 
One such idea is this solar powered grill that the Crazy Russian Hacker has decided to put to the test. 
It is a great idea that actually works, but how well does it work and is it something that people will spend their hard earned money on? 
Watch the video below and let me hear your thoughts about it. Would you buy one of these? Tell me in the comments below!