A Snowy Wedding From A Dogs Point Of View
Wednesday, December 2, 2015 - 22:34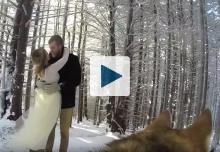 Have you ever wondered what a wedding would look like from a dogs point of view? Me either, but it is actually pretty cool to see.
Addie and Marshall Burnette got married at the top of Roan Mountain in Tennessee after two feet of snowfall.
Rather than hiring a videographer, the couple strapped a GoPro camera to their dog, Ryder, and let her run free.
The result is a wonderfully unique video memory that has been viewed over 4.5 million times on YouTube!