Self Driving Big Rig Delivers Beer In Colorado
Thursday, October 27, 2016 - 01:46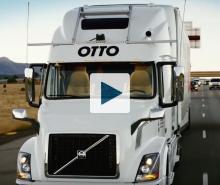 For the first time, an autonomous truck was used in the real world for commercial trucking. 
The truck was created by Otto, which is now owned by Uber, but was started by Google car and map project veterans Anthony Levandowski and Lior Ron. 
The truck delivered 45,000 cans of Budweiser beer to a location in Colorado Springs after autonomously driving 120 highway miles from Fort Collins, Colorado. 
The truck drove an average of 55 mph (89 kph) while the driver sat in the trucks sleeper berth and monitored its progress. 
The only time the driver took control of the truck was before it entered the highway and again as it left the highway. 
Watch the video below to learn more and let us know what you think in the comments.  I know that everyone has an opinion on this subject, so let's hear it!