Check Out This "Honest Trailer" Of Willy Wonka & The Chocolate Factory
Thursday, January 26, 2017 - 09:20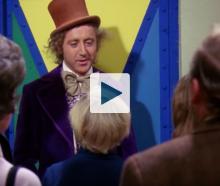 One of the greatest movies of all time is Willy Wonka & The Chocolate Factory starring Gene Wilder as Willy Wonka. 
One of the creepiest movies that kids are allowed to watch is, you guessed it, Willy Wonka & The Chocolate Factory. 
So when I saw this "Honest Trailer" by the Screen Junkies YouTube channel I knew that it would probably be worth its weight in golden tickets. 
Sure enough, it is a brilliant description of the movie and its characters and even has some wonderful new songs sung by special guest star Michael Bolton! 
Check out the video below and let us hear your thoughts in the comments section!