See Underwater Explosions In Slow Motion
Sunday, October 9, 2016 - 23:38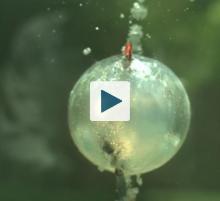 Watching explosions in slow motion is nothing new and you might think you've seen them all, but have you ever seen an underwater explosion in slow motion? 
The Slow Mo Guys, Gav and Dan, get their hands on some firecrackers, fill an aquarium with water, and start filming. The end result is probably not what you would expect.
Because explosions are so fast, it takes a whole lot of frames per second (fps) to get a good view of what is going on. 
In order to get the number of frames required, they used the Phantom V2511 camera and recorded at a whopping 120,000 fps! 
Take a look at the video below and let us know what you think in the comments.