How Has Stephen Hawking Survived So Long With ALS?
Tuesday, September 6, 2016 - 03:11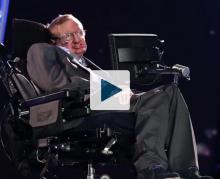 Stephen Hawking is a theoretical physicist, cosmologist, author and the Director of Research at the Centre for Theoretical Cosmology within the University of Cambridge. 
When he was 21 years old he was diagnosed with amyotrophic lateral sclerosis (ALS), also known as motor neurone disease or Lou Gehrig's disease.
ALS normally gives its victims around 4 years to live, but Stephen has lived more than 13 times that long and is currently 74 years old. 
This video by DNews digs into the mechanics of the disease and tries to answer the question of how a world renown physicist has survived so much longer than others with the same condition. 
Do you know anyone that has suffered with ALS? Feel free to share your stories in the comments!