GoPro Stolen By A Squirrel Gives Us A Cool Point Of View
Tuesday, August 16, 2016 - 08:08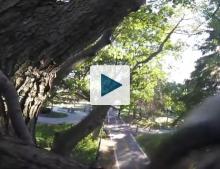 Have you ever wondered what it is like to run through the treetops like a squirrel? 
Well, I am happy to report that you no longer have to imagine what it is like because thanks to this GoPro camera and a curious squirrel we now have video of a few minutes from a squirrels perspective. 
YouTube user Viva Frei, who brought us the video of a squirrel pulling his daughters tooth, was lucky enough to find a willing squirrel with good camera instincts to pull it off. 
Watch as the squirrel grabs the camera and runs up into the trees to give us a unique "squirrel's eye view". 
What other kinds of animal POV (Point Of View) shots are you interesting in seeing? Let us know in the comments!