Tuesday, December 19, 2017 - 05:28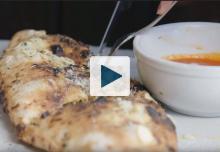 I love pizza and have been eating it my whole life. I have noticed calzone's on the menu, but it never occurred to me to try one out. 
It was not until my 30's that I discovered the awesomeness of what is essentially pizza turned inside out! 
This video by First We Feast takes us to Motorino Pizzeria in NYC where owner Mathieu Palombino shows us the perfect wood-fired calzone. 
If you love pizza, you will love these fancy pizza pockets! 
Check out the video below and don't forget to leave a comment to let me know what you thought!