Funniest Kids And Dogs Videos
Monday, August 29, 2016 - 04:55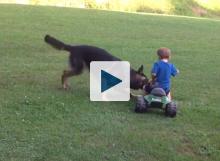 It is another Monday, so detour your mind from the working blues and watch something that has nothing to do with stress inducing demands from the boss. 
The best thing to reduce your stress is to watch or interact something cute or cuddly, and this compilation of videos has both! 
America's Funniest Video's (AFV) has put together this collection of videos that all stick with the theme of being funny and containing both kids and dogs. 
So sit back and let your mind relax as you watch two of natures stress busting creations in action. 
Which clip is your favorite? Let us know in the comments!