Firing A .50 Cal Rifle In Slow Motion
Wednesday, January 3, 2018 - 12:28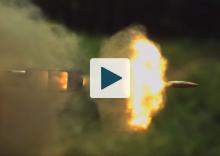 Firing guns in slow motion is no new thing for The Slow Mo Guys, Gav and Dan. 
However, they have never fired a .50 caliber rifle before and somehow they got their hands on one. 
If you have never seen a .50 caliber rifle, then you will probably be surprised at how big it actually is. 
They take several shots from many different angles and catch some really cool looking slow motion video. 
Check out the video below and leave a comment to let me know what you think about it!