Boy Thinks His Food Is Too Cute To Eat
Wednesday, February 24, 2016 - 01:02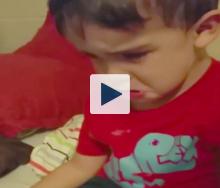 Any parent will tell you that there are times when trying to get your child to eat their dinner is a nightmare.
Usually the child refuses to eat because they think that they don't like what is being served.
This little boy doesn't want to eat his dinner for an entirely different reason. He refuses to eat because his meal is "too cute".
Well, all I can say is that his kid is "too cute"!