Awesome Fireworks Rocket Launcher!
Friday, March 11, 2016 - 01:18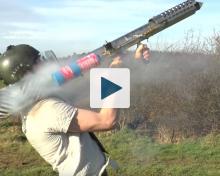 What do you do when you have an abundance of time and money? Build a rocket launcher for shooting fireworks, of course!
This guy must have had more than enough time and money because he went "all out" on this rocket launcher.
It is not the most accurate rocket launcher on the planet, but then again fireworks are highly unpredictable.
Even though it has some issues with accuracy, it still manages to "knock your socks off".