Are NYC's Most Expensive Steaks Worth It?
Tuesday, October 17, 2017 - 04:41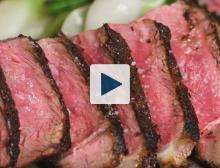 Would you ever pay $162 for a nice big steak? 
Join Sean Evans, from the First We Feast YouTube Channel, Steven Lim, Andrew Ilnyckyj and Adam Bianchi of BuzzFeed's popular series, "Worth It", as they try to answer this important and tasty question on this episode of "Sean in the Wild". 
Bowery Meat Company's Josh Capon prepares a $148 T-bone Florentine, a $125 Chateaubriand, and a $162 Tomahawk Ribeye to be "tested".
Do you think these meats will make the cut? Are they really worth all that cash? Watch the video below to find out! 
If you aren't too consumed with hunger to type, then leave a comment below to let me know what you thought.