Watch These Cute Kids And Their Funny Dogs
Monday, April 3, 2017 - 06:44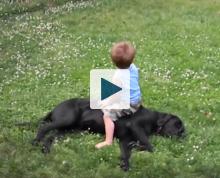 Well, it's another Monday so it is up to me to help you take your mind on a detour from the same old, same old. 
What better way is there to temporarily forget your Monday blues than watching cute little kids playing with their funny, furry best friends? 
Just make sure that the boss isn't around whenever you give this a watch, because some of these clips will surely have you laughing out loud. 
So go refill your coffee, then sit back, relax and take your mind off your troubles for a few minutes, you'll thank me for it. 
If you get a chance, let me know which clip was your favorite in the comments!