Watch A Taser Impact Bare Skin In Slow Motion!
Monday, September 14, 2015 - 01:07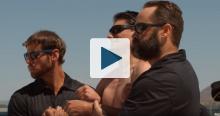 With the abundance of taser videos on the internet, there is a good chance you have seen the end result. But, have you seen a taser impact in slow motion? Be forewarned, this might be a little gross for some people so if you are squeamish then you might want to move on to something a little less graphic. This Slow Mo Guys video is shot with the Phantom v2511 at 28,500fps.