Submerged Inside A 6 Ft Water Balloon In Slow Motion
Thursday, June 22, 2017 - 03:07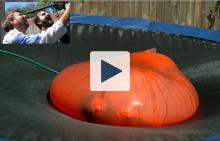 It is still June, so that means it is still "Giant Balloon June" on The Slow Mo Guys YouTube Channel. 
To see their other giant balloon videos, click here, here and here. 
This time Dan will get all the way inside the giant water filled balloon and attempt to pop it with his face. 
Gav even makes an attempt to pop the balloon by jumping on the trampoline that they are sitting on. 
All the while, the Phantom Flex 4K camera is filming at 1000 frames per second to catch the moment when the balloon finally bursts. 
At the moment that it finally pops, we get a surprise that we never could have guessed was coming! 
Watch the video below and leave me a comment with your thoughts!