Slow Motion Lego Plane Crashes Into A Lego City
Monday, August 15, 2016 - 05:59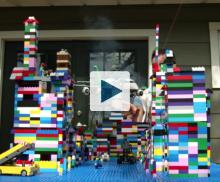 Lego bricks have been around in the United States since the late 1950's, so most of you reading this have at least some idea of how they work and have probably built and destroyed a few creations of your own. 
The Slow Mo Guys, Gav and Dan, decided to get their old Lego blocks out of storage and put together a small town that could be destroyed by the Lego airplane that they planed on building. 
In classic Slow Mo Guys form, it took them several attempts to get the shot that they were looking for, which was quite a lot of work since the town and airplane had to be rebuilt after each attempt. 
Filmed at 2500fps and 1000fps with their Phantom Flex and Phantom 4K cameras, the end result is absolutely magnificent! 
Take a look at their Lego mayhem in the video below and let us know what you think in the comments!