Poor Puppy Just Wants His Treats
Wednesday, October 28, 2015 - 02:48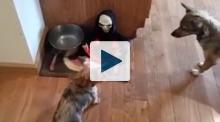 This pet owner decided to pull a prank on their dogs.
They replaced the dog food bowl with an animatronic Halloween candy dish that is fitted with a motion sensor.
The little dog does not like this new food dish one bit! Every time he goes for a treat, he is tricked instead! 
The larger dog offers no help to his little buddy.