New Washable Keyboard Tested!
Wednesday, June 8, 2016 - 02:57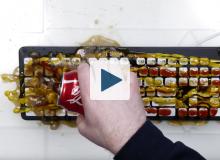 Are you one of those people that likes to have a snack while you surf the web or work on your homework? 
Maybe you are having a snack right now. 
Does your keyboard look like the floor of a Cheesy Poof factory? 
If so, then the Logitech K310 Washable Keyboard might be right up your alley! 
But don't take my word for it, the guys over at the Unbox Therapy YouTube channel decided to take this keyboard for a grueling test drive using some of your favorite condiments and a Coca Cola for good measure. 
Is this keyboard something you need? Do you think it really works?
Let us know what you think about this keyboard in the comments.