Fail Friday: Wedding Fails
Thursday, October 6, 2016 - 19:30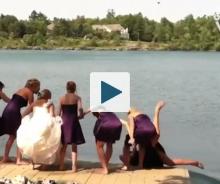 Everybody loves a good wedding...fail. 
It seems that weddings never go off without a hitch, even with so much planning and preparation there are just too many things that can go wrong. 
Of course weddings are one of the most photographed and filmed events in our lives, so when they do fail someone is bound to catch it on film. 
This compilation of wedding fails is only a small taste of the many things that can and will go south once the festivities get started. 
Let us know which clip is your favorite in the comments!