Fail Friday: Upside Down Summer Fails
Friday, August 17, 2018 - 13:11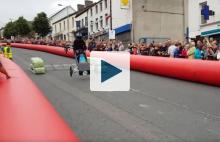 It is hard to believe, but we have already reached the third #FailFriday in August. 
The summer heat has not put a damper on the number of fail videos being uploaded to the internet. 
In fact, there might be even more fail videos uploaded during this time of year than any other. 
So sit back and relax while you enjoy watching people have some of the worst moments of their summer. 
Leave a comment below to let me know which clip was your favorite and try to have a safe and fail-free weekend!