Fail Friday: Ultimate Girl Fails
Friday, July 15, 2016 - 05:32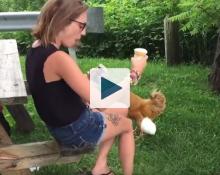 This weeks awesome new #FailFriday is brought to you by JukinVideo and is dedicated to the ladies. 
This compilation of hilarious videos features girls failing in bikinis, girls failing on skateboards, girls failing in the snow and more! 
So sit back, relax, and watch these female "fail artists" do their best to entertain us all, whether they meant to or not. 
Which clip is your favorite? Let us know in the comments!